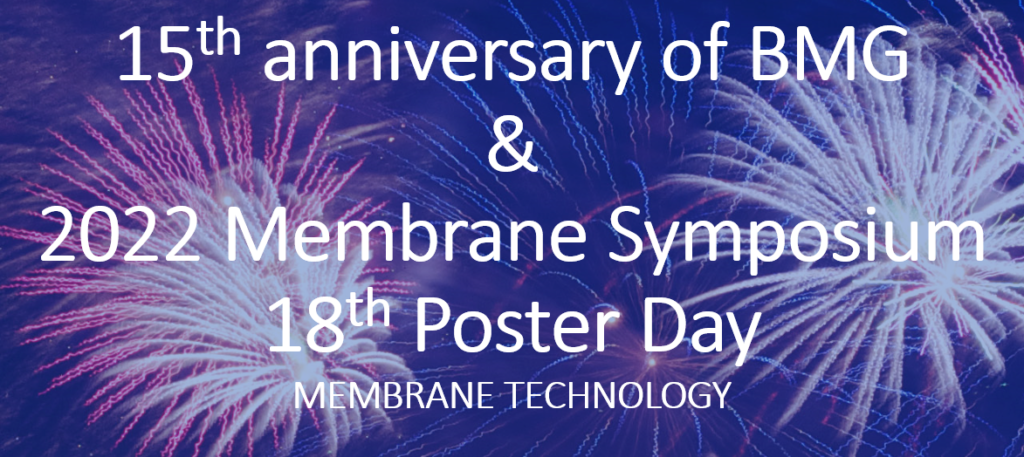 The Belgian Membrane Group (BMG) is proud to invite the membrane community to its 15th anniversary. This will be celebrated on the 18th Membrane Symposium Poster Day on Friday, October 28th 2022 at the university of Ghent.
The Symposium is organised in collaboration with the German Society for Membrane Technology e. V. (DGMT – Deutsche Gesellschaft für Membrantechnik) and the Dutch Membrane Society (NMG – Nederlands Membranengenootschap). The objective of the Membrane Symposium is to present progress on membrane research and development at laboratory and industrial level. It provides a platform for networking for universities, institutes as well as industries. We invite Dutch, Belgian, German and other international membrane researchers, developers, technology providers, equipment & system manufacturers and end-users to share their latest results and membrane related experiences.
Call for posters
We hereby invite you to present one or more posters on the following topics:
Membrane Formation / Modification/ Characterization
Ultrafiltration / Microfiltration
Pervaporation/ Gas Separation
AqueousReverse / Forward Osmosis/ Nanofiltration
Organic Solvent Nanofiltration
Electrically Driven Membrane Processes
Membrane Reactors
Applied and Hybrid Membrane Processes
If you intend to present a poster, please fill in the poster title and name(s) of the author(s) when you register and specify the subject of your poster.
Guidelines:
After registering and incase of positive evaluation by the committee you will receive an email with a link to enable you to upload your poster.

The poster should be presented on the event day in A0 size, "portrait style". You have to bring your A0 printed poster yourself and place it on the indicated board between 09h30 and 10h30.

The three best posters will be awarded a prize at the end of the day. Two awards will be given to scientific posters and a third award to an industrial poster. Posters uploaded before October 7th will take part in the contest for Best Poster Award. Posters uploaded after October 7th can be presented on Ocotber 28th but will not take part in the contest.

All posters will be collected digitally and made available to all participants after the event.
Venue [Route]:
Academieraadzaal, Ghent University
Voldersstraat 9
9000 Ghent, Belgium
The venue is easily accessible by public transport.
When arriving by train (Ghent Sint-Pieters) you can chose to:
When arriving by train (Ghent Dampoort) you can chose to:
The venue is also accessible by car.
Since 2020 the center of Ghent is a Low-Emission-Zone (LEZ). Check whether your vehicle is allowed into the city center [LEZ-check]. Parkings close to the venue are:
Admission fee (excl. VAT):
BMG/DGMT/NMG members: 75 €
Non-members: 125 €
Students: 35 €
Registration and poster admission deadline is on October 7th 2022 and has to be executed via the button below.
Preliminary program:
09h30          Poster displaying and Registration with coffee
10u30          Welcome & opening
10h40          Academic lectures
12h30          Lunch with poster session 1
14h00          Industrial lectures
15h00          Lecture from NMG
15h15          Lecture from DGMT
15h30          Poster session 2
17h00          Poster awards and pitch of winners
17h15          Networkreception
Sponsors:
Organisers: